Environmental Health & Safety Consultants, LLC is a Connecticut-based, lead testing company.
Chances are if your home was built before 1978, it has lead-based paint.  Paint made between 1960-1978 often contains low levels of lead. Paint before 1960 can have high levels of lead. If you think the paint in your house may contain lead, contact our team of professional lead testing and abatement specialists to test for lead paint and determine the best abatement strategy. Trying to removing lead-based paint on your own can increase the danger to you, your family or your employees. Our lead testing service focuses on identifying any lead-based paint from areas such as windows and window sills; doors and door frames; stairs, railings and banisters; and porches and fences.
If we find lead in your home or business, our technicians will provide a protocol for lead removal and abatement. Upon completion of abatement, we will perform a post abatement test to ensure that all lead has been properly removed. All lead samples are sent to an independent laboratory for confirmation. We follow all lead protocol details the proper handling of the materials in accordance with Environmental Protection Agency (EPA) and Occupational Safety and Health Association (OSHA).
Lead is a highly toxic metal that can cause a range of health problems. Lead that is absorbed into the body can cause serious medical problems. You can get lead in your body by breathing or swallowing lead dust, or by eating soil or paint chips containing lead.
If you think you may have lead paint, contact the experts at Environmental Health & Safety Consultants today!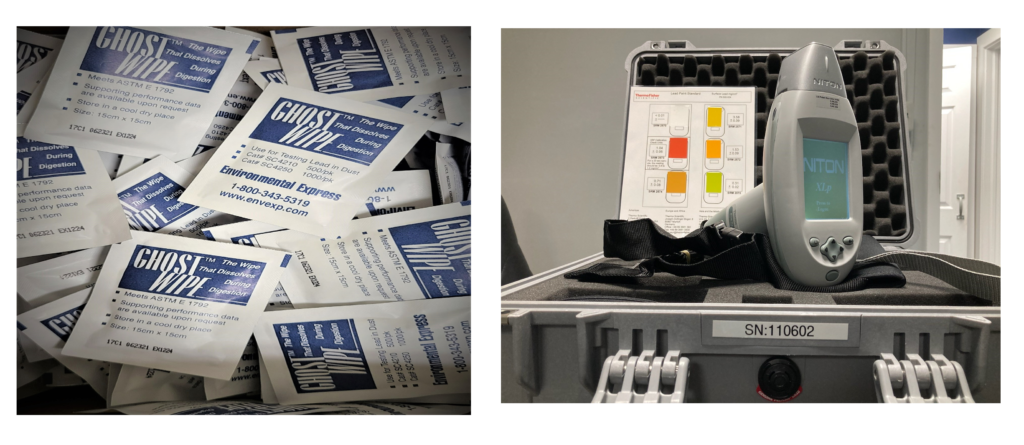 If you are looking for Testing Services call us or use our Environmental Testing Request Form